Today is a sad day. Early this morning, Elizabeth Taylor passed away from heart failure at Cedars-Sinai Medical Center in Los Angeles, California. She was 79 years old.
Born on February 27, 1932 in London to American parents, she moved to America at a young age and, after seeing a Shirley Temple movie with her mother, decided that she wanted to be an actress.
In 1944, she got her first starring role playing Velvet Brown in MGM's National Velvet. She was catapulted to stardom and made many films for MGM before the age of eighteen.
Velvet and the Pie, National Velvet


In 1950, Taylor starred alongside Spencer Tracy in Father of the Bride and a year later, she starred opposite Montgomery Clift in A Place in the Sun. Together, these two films would establish her as a legitimate actress.
A Place in the Sun, 1951
During the 1950s she would turn in many incredible performances in great films: Giant; Raintree County; Suddenly, Last Summer; Cat on a Hot Tin Roof.
Cat on a Hot Tin Roof, 1958


Suddenly, Last Summer. 1959
In 1960, Taylor won an Oscar for her performance as ill-fated call-girl Gloria Wondrus in Butterfield 8. Hardly her greatest performance, she was awarded an Oscar due to the fact that she had just faced a near death battle with pneumonia and undergone an emergency tracheotomy. Taylor was the first to acknowledge this fact and in fact, despised her performance and the movie itself.
In 1966, she won the role of a lifetime when she starred opposite Richard Burton in Who's Afraid of Virginia Woolf? Many people were surprised that she had undertaken such a role. This character was a middle-aged, overweight, drunken, vulgar woman who was anything but glamorous and beautiful. But Elizabeth pulled it off splendidly, gaining weight, dressing in frumpy clothing, wearing no makeup, and sporting a messy, ratty mop of graying hair. She shocked critics and audiences alike, and was rewarded with her second Best Actress Oscar.
I'm going to make the biggest goddamn explosion you ever heard




In the early 80s, Taylor spent less and less time on her career, and devoted much of her time to AIDS research and awareness. Long before it was fashionable for celebrities to champion causes, Elizabeth Taylor took a stand and devoted herself to educating the masses about AIDS. Before, people were so afraid of getting AIDS, because they just weren't educated as to how the disease is spread. Others thought that only gays could get it. Elizabeth helped to educate them, and it is in part thanks to her that people learned that AIDS knows no race, creed, color, gender, or sexual orientation, and that you cannot get AIDS from regular, ordinary contact with an AIDS victim. In 1993, she would be rewarded with the Jean Hersholt Humanitarian Award for her efforts.
Of course, you really can't talk about Elizabeth Taylor without mentioning her stunning, flawless beauty. Observe: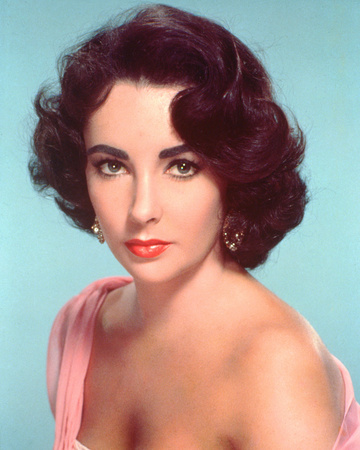 "You will kneel..On your knees"








All in all, Elizabeth Taylor was a beautiful, caring, generous, talented woman who lived about twenty five lives in one. Hopefully now she can rest some.
Goodbye, Elizabeth. We'll miss you.
This song is off the Inglourous Basterds soundtrack, but I think that the music perfectly suits Elizabeth.