Naturally beautiful. Understated. Oscar winning. Remarkable. Unforgettable. These adjectives come to mind when I think of actress number nine on this list: Ingrid Bergman.
Born on August 29, 1915 in Stockholm Sweden, Ingrid Bergman knew from an early age that she wanted to be an actress. She used to dress up in her mother's clothes and stage productions for her own amusement. She attended the Royal Dramatic Theater School (the same school Greta Garbo attended) and appeared in a handful of plays before starring in some Swedish films.
In 1939, producer David O. Selznick brought her to America to star opposite Leslie Howard in a remake of her 1936 Swedish film Intermezzo. Titled Intermezzo: A Love Story, the film brought Ingrid instant fame in America. She was a natural in front of the camera. Her performance was subtle and understated, and absolutely effective. Such became the usual for Ingrid.
In my opinion, Ingrid Bergman's best performance is in the 1944 film Gaslight. Playing the role of a woman being driven mad by her diabolical husband (played by Charles Boyer). In what could have been played extremely over the top, Bergman played it down and only became hysterical in the last few moments of the film, making her hysteria more realistic.She won the Academy Award for her performance.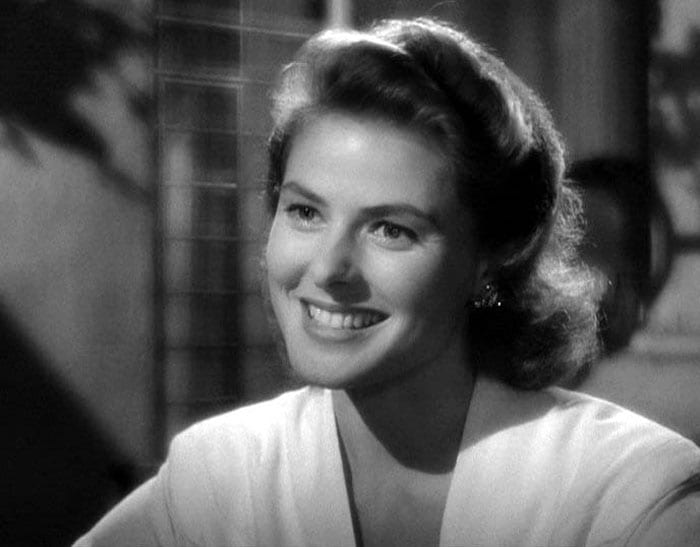 Her most famous role however, is as Ilsa Lund in the immortal, beloved wartime classic Casablanca. Torn between Humphrey Bogart and Paul Henried, her performance is subtle, understated, and touching. I know I've mentioned this before, but it bears repeating. My favorite scene is when Victor Lazlo (Paul Henried) leads the patrons of Rick's Cafe in a rousing rendition of La Marseillaise. Watch Ingrid's face here. Her eyes are nervous for his safety, but she can't hide her sense of pride in him. It's a beautiful performance. And as a sidenote, can I just point out how beautiful she looks in this film? She is absolutely luminous. (The black and white cinematography doesn't hurt here).
I think what I admire most about Ingrid Bergman was the lack of pretense about her. She was always herself and refused to compromise herself for anyone. She used very little makeup and wouldn't allow her teeth to be capped. She wouldn't be made over into someone she wasn't, and if she made enemies along the way, so be it.
Although Ingrid Bergman wasn't constantly turning out great performances, when she was good, she was perfect.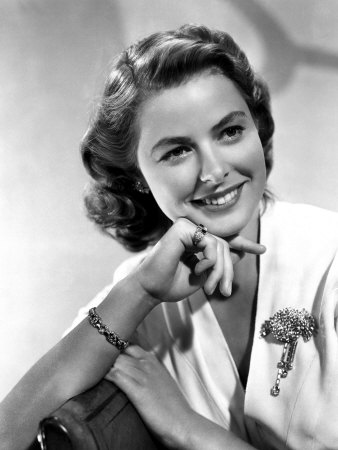 Rock on, Ingrid.
Is this not the sweetest picture ever?